Jul. 12 - 4 min read
Self Driving and SMS: How We Are Implementing our Safety Management System
One goal of SMS is to create policies and procedures that ensure a continuous feedback loop between employees and leadership.
As we like to say at Aurora, "Safety is a team sport." We take a holistic view of safety, focusing on creating a strong safety culture that permeates every part of our company, including how we do business. A key part of that approach to safety is implementing our own Safety Management System, commonly referred to as SMS. This is an organizational approach — employed by safety-critical industries like aviation and rail — that standardizes how safety information moves through a company.
Ultimately, improving safety just at Aurora isn't enough – we want to help the entire industry make progress. Read on to learn the importance of implementing SMS and best practices for companies adopting their own SMS.
What is a Safety Management System (SMS)?
SMS ensures that safety information is presented to the right person, at the right time, and that there is accountability and transparency for every safety action taken across the company. This approach ensures that safety is prioritized as we make decisions, with features such as a Safety Review Board for safety risk management decisions and a clear and easy-to-use Safety Concern Reporting process.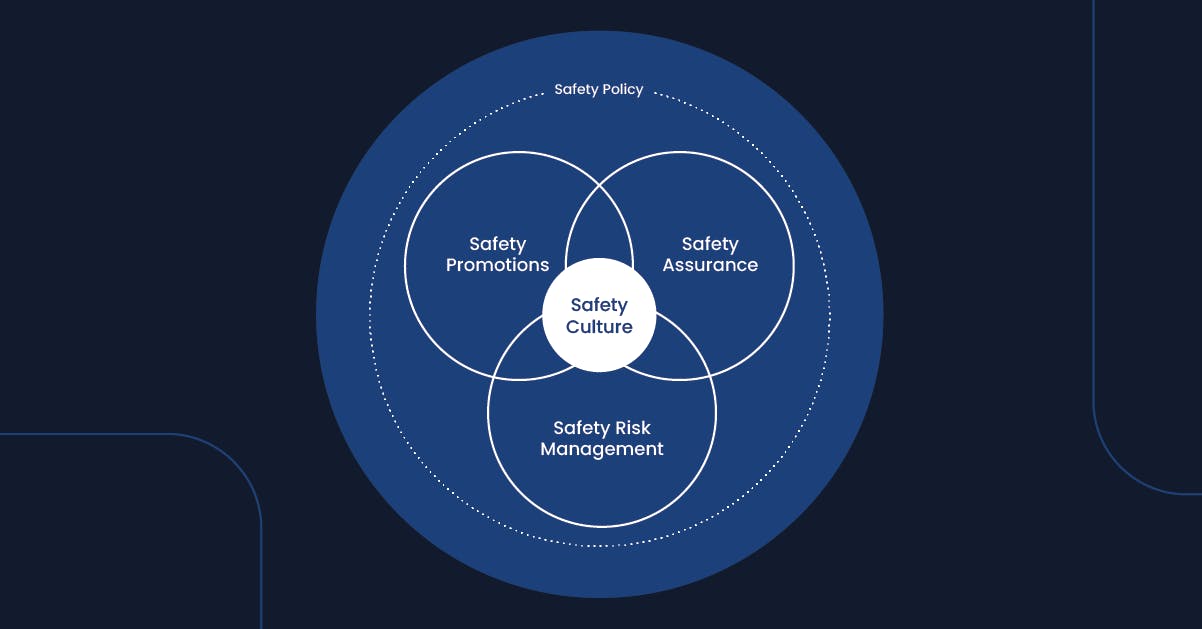 At Aurora, we are building our SMS on four key components — a detailed Safety Risk Management structure, a robust Safety Assurance program, disciplined Safety Policy documentation, and an engaging Safety Culture that includes safety education and events. Our SMS helps ensure we're proactively identifying safety issues and resolving them as early as possible. It also ensures our entire company values safety, understands our safety procedures, and is using a common language to talk about risk.
Implementing SMS at Aurora
We actively work to make safety a part of everyday life at Aurora. For example, our non-retaliation Safety Concern Reporting policy encourages everyone at the company, from our vehicle operators to our CEO, to speak up if something doesn't feel safe. In the spirit of transparency, we share a repository of safety reports and their status on our company intranet.

We also leverage experts inside and outside of Aurora. Our Safety Review Board (SRB), an internal group of cross-functional leaders, meets regularly to address active safety issues. And we recently announced the Aurora Safety Advisory Board, made of external experts from fields including aviation safety, insurance, emergency/trauma medicine, automotive safety, and academia. As part of bringing experts to Aurora, we held an all-company safety standdown for National Safety Month, hosting a talk with National Transportation Safety Board (NTSB) Chairman Robert Sumwalt. (You can read about the convo here!)
What to Keep in Mind When Implementing SMS for Self-Driving
Safety is not a box you check but rather, an ongoing and active process. Based on our experience and expertise, we're sharing our best practices in the hope that they can help the broader autonomous vehicle ecosystem deliver self-driving safely.
Make sure senior leadership is involved from day one. Safety culture works best when it is supported by those with the resources, authority, and responsibility to address safety issues. Senior leaders should understand the approach and associated policies, model high safety prioritization for their staff, and play a hands-on role in crafting procedures that fit your organization's culture, pace, and work style. 

Make sure everyone is using the same terminology. Self driving is a unique convergence of operations, engineering, functional safety, and a plethora of safety-related best practices. Companies might have similar, if not duplicative, language for focus areas like risk assessment, safety assurance, and safety policy. Many of these are actually complementary, but early efforts should be taken to make sure everyone is using consistent terminology. 
Train early, and often. The self-driving space attracts talent from many different industries, so some best practices, such as managing a non-punitive safety reporting policy can be new to employees and leaders alike. It's best to assume no one is familiar with these concepts and set up frequent training sessions to ensure every team member understands safety processes. 
Leverage what already exists at your organization. Many organizations have existing programs, tools, or policies that can be adapted for SMS. For example, if you already have a way to resolve customer support issues, the same tool could be adapted for safety issues. Or a process for assessing product quality could be adapted to look at operational or organizational hazards.
Be adaptable. We're breaking new ground in the self-driving space, and each company varies in its approach to testing, operations, and development. SMS should be adapted to the organization to reflect product goals and timelines. While some SMS aspects, like a safety-reporting system or executive-led safety committees, create value early on, others, like a broad, internal audit program, can be developed over time.
Be humble, intentional, and disciplined: Any company can have an SMS, but it takes humility, intention, planning, and focus to realize the true power of a functioning SMS. Those interested in implementing these policies should review the guidance from regulatory bodies that provide SMS oversight for other industries, such as the Federal Aviation Administration (FAA) and the International Civil Aviation Organization (ICAO), and begin engaging key experts with direct experience in this area. Aurora is also a leading member of the Automated Vehicle Safety Consortium (AVSC) and we encourage everyone to read and apply the group's upcoming SMS report, which encourages all self-driving providers to assess their approach to safety management for automated testing.
Join the Dialogue: As the AV space matures, it's important we come together as an industry to share learnings. We will continue to lead the effort to encourage everyone in our industry to implement SMS throughout their organizations. In fact, we are hosting an upcoming SMS Coffee Chat for interested companies during the Transportation Research Board's ARTS21 conference this week! The event takes place on July 15 from 12-1pm EST. 
–– The momentum continues at Aurora and we're hiring in all disciplines, including on our Safety team. Check out our careers page to see our open positions and learn more about what it's like to work at Aurora.
Aurora Team
Aurora delivers the benefits of self-driving technology safely, quickly, and broadly
Be part of a team you're proud of