Meet Elise LaGamba, our certified olive oil virtuoso and Vehicle Operations Team Lead. As a Vehicle Operations Lead, Elise divides her time between instructing new trainees and leading a team of Vehicle Operations Specialists.
As we build a diverse culture at Aurora, we are committed to supporting and inspiring women to develop their careers and transform the world of technology.
In our series, Women of Aurora, we share the personal and professional journeys of the women of Aurora. In our first profile of 2020, we're excited to introduce Elise LaGamba, one of the first members of the Vehicle Operations team in our Pittsburgh office.
Read on to learn about the unique experiences that took Elise from film school to self-driving cars. And in between that time, becoming a professional olive oil sommelier. That's right, Elise is an expert olive oil sensory analyst and educator.
Before working at Aurora, what was the most unusual or interesting job you had?
Elise: My most unusual job was a food quality tester for a grocery store chain. I purchased various items off the shelf and inspected them for quality. For instance, counting the number of broken potato chips in a bag. Another project I had was to determine whether or not the olive oil sold was authentic. [Tiny teaser — we will revisit this topic later in the post!]
But my most interesting job was serving as an associate producer on a reality television show. I worked on a documentary series called The Chair that aired on Starz. The show followed two first-time directors who were given the opportunity to direct separate films adapted from the same original screenplay. It was a fun, yet challenging, experience managing production dynamics. I had to keep track of the physical location of the show's participants, while also directing my camera and sound crews to record certain conversations — all in real time. Meanwhile, I did the work from a completely different location than the individuals I was tracking.
How did you get involved in food testing and television production? Those are very unrelated fields.
Elise: I majored in film studies in college, with an emphasis on post production. That explains my adventures with The Chair. My first job out of college was at a genetic research lab, where I managed and processed photo and video data. That gave me the lab experience to move into food testing, which is how I went from film studies to a science-focused position.
Tell us about your path that led you to Aurora. Why autonomous vehicles and why Aurora?
Elise: At the time, I wanted to branch out professionally and pursue a new role and industry. I was itching for a change. I wasn't familiar with self-driving cars when I came across Aurora, but the more I learned, the more I became fascinated by the field. It sounded really cool. The work was also vastly different from food testing. After applying to Aurora and learning more about the organization, I fell in love with the culture. I knew this job and company were exactly what I wanted.
What does your role as a Vehicle Operations Lead entail, and what keeps you motivated?
Elise: As a Vehicle Ops Lead, my role is multidisciplinary by design. My daily responsibilities range from instructing new trainees to managing a team of Vehicle Operations Specialists to troubleshooting with engineers. As we develop the Aurora Driver, our technology is constantly evolving. It's my responsibility to help my team understand, prioritize, and adapt to these changes seamlessly.
I'm deeply inspired by Aurora's culture and approach to delivering the Aurora Driver. It starts with our culture of safety and our commitment to be thoughtful and innovative in our technology development, particularly in how we apply simulation and machine learning. And it culminates with the opportunity to be a part of a monumental shift in transportation. What we're building is incredibly exciting, and it's also going to fundamentally change the way people move and live their lives.
How has Vehicle Operations at Aurora changed over the last two years since you joined?
Elise: The team has grown exponentially. When I joined, I was on a team of three and today, we have more than thirty members across all of our offices.
The biggest change that resulted from this growth is the emphasis on communication and how we share knowledge. When we were a team of three, we shared information via word of mouth. That's not scalable. So we've created formal policies and procedures to make it easier for the team to learn and communicate. This is crucial as our team continues to expand.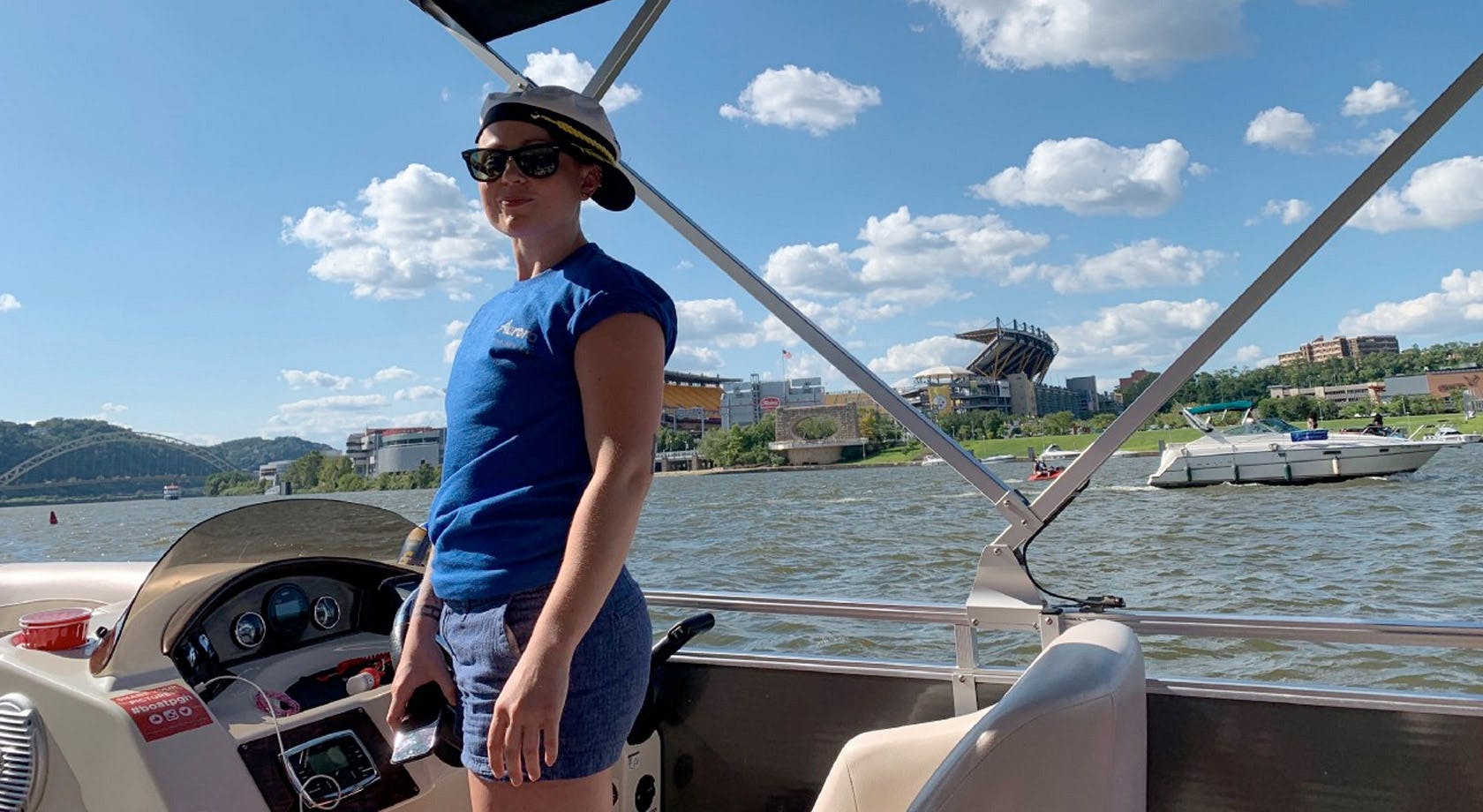 What is your proudest moment at Aurora?
Elise: As an instructor, I love seeing our vehicle operators graduate from our training program. It's extremely rewarding when the trainees can troubleshoot and problem-solve on their own and produce awesome work. It's my responsibility to train, teach, and support our trainees so they can perform their jobs effectively and independently. It's a fantastic feeling when they accomplish this milestone.
You get to spend a lot of time with the Aurora Driver. What recent progress have you found cool and exciting?
Elise: It's been exciting to see our Driver's ability to nudge. Nudging is when the vehicle has to readjust its trajectory to get around an obstacle — for instance, a big truck that's hanging out into the car's lane. In recent months, our vehicles are nudging more smoothly and in increasingly complicated conditions and situations.
We also drive through some of the coolest and busiest neighborhoods in Pittsburgh. Our routes are usually bustling with traffic and pedestrians. The unpredictability of all the movement and activity, combined with Pittsburgh's topography and particularly narrow streets, makes our driving routes complex. It's really exciting to watch our vehicles navigate these scenarios.
So, you're an olive oil sommelier. Tell us more!
Elise: Yes, they exist! Just like wine sommeliers, there are olive oil sommeliers. I first became interested in olive oil when I was a food quality tester. One of my assignments was to inspect olive oils and ensure their authenticity. I had no idea what constituted as "high" or "low" quality olive oil. After extensive research, I discovered it's relatively easy to manufacture fake olive oil. In fact, there have been scandals and public health crises involving the sale of fraudulent olive oils. Through this assignment, I gained a lot of knowledge about olive oil — and I wanted to do something with it. Plus, I've always aspired to be a formal expert in something. Why not in olive oil?
My quest took me to a prestigious olive oil tasting school in Italy, the National Organization of Olive Oil Tasters (ONAOO). It's the oldest of its kind in the world. I was drawn to ONAOO because it required students to pass exams to remain enrolled in the school. This was a higher bar and more challenging than simply paying someone to teach me about olive oil and then hand me a certificate.
I passed the initial week-long class to gain admission into ONAOO. Then, every year for the past four years, I've traveled to Italy to attend a two-week course at the school. Each quarter, the school ships olive oil samples to students, which we all taste and discuss over Skype. In December 2018, I passed the final exam and received my certification!
[Check out Elise's official ONAOO profile!]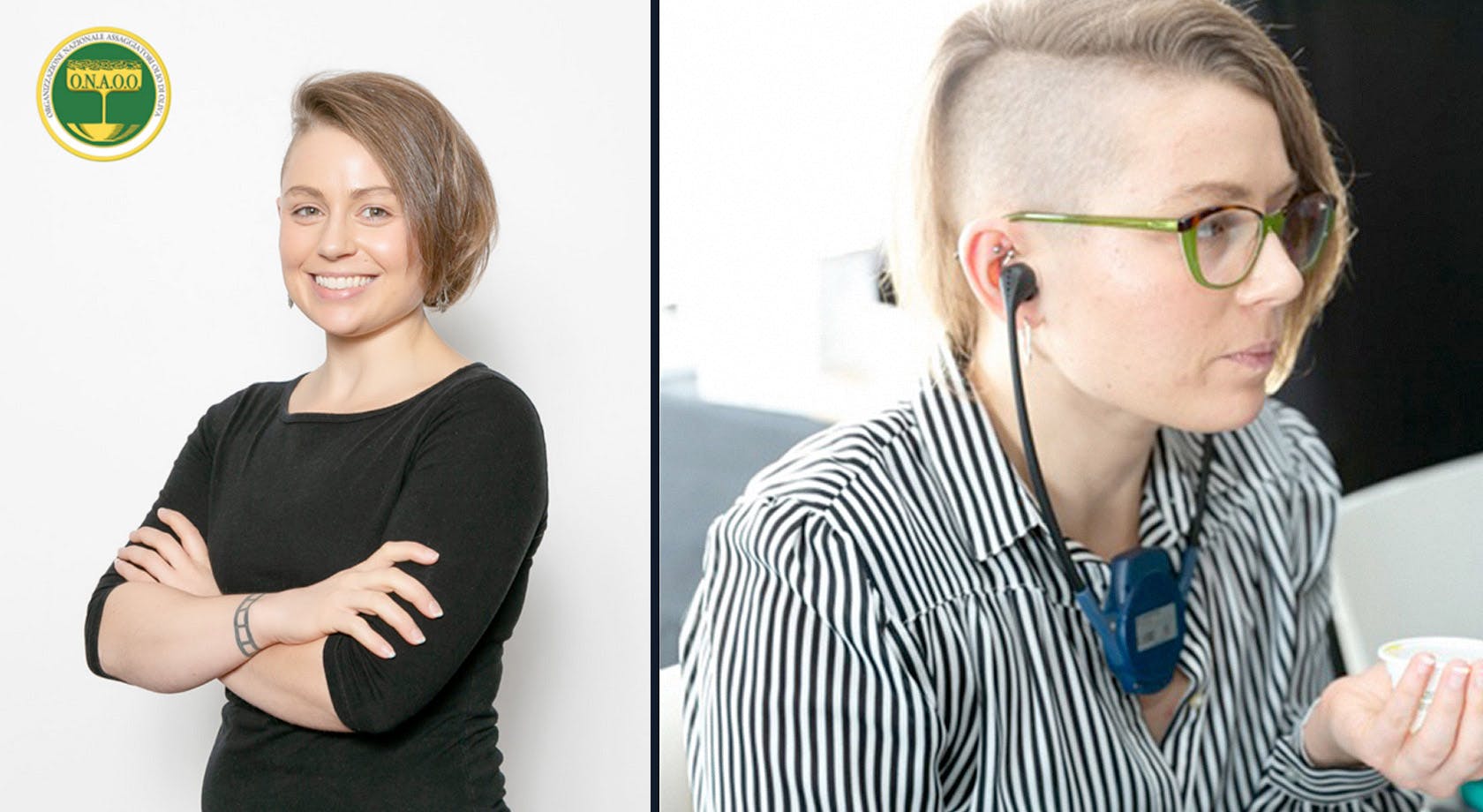 How are you currently using your Olive Oil Sommelier Certification?
Elise: I briefly played around with the idea of becoming an importer of olive oil, although that is a hefty financial investment. While I'm not currently applying the certification professionally, I do share great olive oils with my friends!
What is your favorite dish to make with olive oil?
Elise: Pasta because I can play around with different sauces. I can make the dish my own by adding more of this or a dash of that.
What is the best thing about working at Aurora?
Elise: Definitely the people on my team. Despite how much we've grown, we're still a close-knit group. On a personal level, we all get along and enjoy spending time together. Professionally, we're all driven by the same goal and mission. We support each other one hundred percent. If there is an urgent request or we're short-staffed, everyone is happy to chip in and help complete a task. My colleagues make working at Aurora truly special.
Aurora is looking for talented people to join our team. If you're interested, visit our Careers page to apply and learn about what makes working at Aurora truly special.
Aurora Team
Aurora delivers the benefits of self-driving technology safely, quickly, and broadly
Be part of a team you're proud of